Cult classic movie options for summer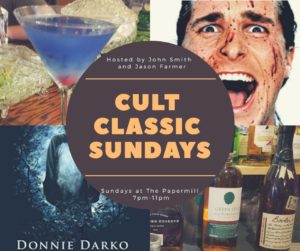 Summer is the perfect time for classic movies.
The Room @ Grail Moviehouse
Saw "The Disaster Artist" and didn't get it? Here's your chance to revel in the horrible, hilarious glory of its source material, the cornerstone of movies "so bad they're good."
Playing Friday, June 22 at 9:30 p.m.
Seeing "The Room" in theaters is a wildly unique movie experience. We're talking full audience participation, including the throwing of objects, yelling of insults, lack of focus, greetings and goodbyes. You'll understand when you see it. Don't forget the plastic spoons..
Cult Classic Sundays @ The Paper Mill
Experience the glory of cult classic movies in a classy place to have a drink, just West of Asheville in Sylva.
The Paper Mill Lounge & Theatre hosts Cult Classic Sundays from 7 – 11 p.m. throughout the summer.
June 24 – Evil Dead and Evil Dead 2